The Golden Ratio
The Dual­ity of Phi and Pi
The Base Mea­sure­ment of Reality
 We begin Rebirth, Next Steps — The 4 Prin­ci­ples with this arti­cle that focuses on val­i­da­tion of sci­ence which just 20 years ago  was the land of quack­ery.  In that time we have learned that our instru­ments were not sen­si­tive enough to mea­sure the ener­gies the ancients spoke of.  We have come to learn that every­thing comes from a sin­gle source energy that is inher­ently intel­li­gent.  We are finally past deci­sion on this mat­ter with the National Insti­tute of Health pro­vid­ing fund­ing for fur­ther research on a "Val­i­dated Sci­ence" with impli­ca­tions that far sur­pass opti­mum health.  We begin with Dr. Lip­ton who worked tire­lessly to bring Sacred Sci­ence to Main Stream atten­tion coin­ing the term Epigenetics.
Epi: mean­ing Above, Over
Genet­ics: Refer­ring to the study of the impact of DNA on bod­ily functions 
Epi­ge­net­ics is the sci­ence and study of the unseen forces (mag­net­ism, elec­tric­ity, light, sound, etc.) and the part they play in real­ity as we per­ceive it.  We are talk­ing about the val­i­da­tion of faith heal­ing, blessed water and Extra Sen­sory Per­cep­tion.  There are a host of self improve­ment pro­grams on the mar­ket and with no inter­est in enter­ing such a wispy type of val­i­dated busi­ness, the deci­sion was made to pro­vide the reader with a through under­stand­ing of how the ener­getic anatomy works, so that you may form a solid oper­at­ing sys­tem through which you process infor­ma­tion through the use of the pro­grams you choose to apply to your life.  We will be cov­er­ing recent declas­si­fied exper­i­ments by the US Mil­i­tary who have inte­grated a per­ma­nent PSY OPS Corps into the US Mil­i­tary structure.  Remote View­ing and Tech­ni­cal Dows­ing are accepted reli­able tools of War and Rescue.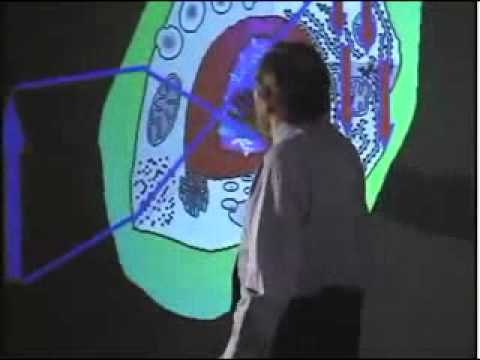 Dr. Lip­ton began his sci­en­tific career as a cell biol­o­gist. He received his Ph.D. Degree from the Uni­ver­sity of Vir­ginia at Char­lottesville before join­ing the Depart­ment of Anatomy at the Uni­ver­sity of Wisconsin's School of Med­i­cine in 1973. Dr. Lipton's research on mus­cu­lar dys­tro­phy, stud­ies employ­ing cloned human stem cells, focused upon the mol­e­c­u­lar mech­a­nisms con­trol­ling cell behav­ior. An exper­i­men­tal tis­sue trans­plan­ta­tion tech­nique devel­oped by Dr. Lip­ton and col­league Dr. Ed Schultz and pub­lished in the jour­nal Sci­ence was sub­se­quently employed as a novel form of human genetic engineering.
In 1982, Dr. Lip­ton began exam­in­ing the prin­ci­ples of quan­tum physics and how they might be inte­grated into his under­stand­ing of the cell's infor­ma­tion pro­cess­ing sys­tems. He pro­duced break­through stud­ies on the cell mem­brane, which revealed that this outer layer of the cell was an organic homo­logue of a com­puter chip, the cell's equiv­a­lent of a brain. His research at Stan­ford University's School of Med­i­cine, between 1987 and 1992, revealed that the envi­ron­ment, oper­at­ing though the mem­brane, con­trolled the behav­ior and phys­i­ol­ogy of the cell, turn­ing genes on and off. His dis­cov­er­ies, which ran counter to the estab­lished sci­en­tific view that life is con­trolled by the genes, pre­saged one of today's most impor­tant fields of study, the sci­ence of epi­ge­net­ics. Two major sci­en­tific pub­li­ca­tions derived from these stud­ies defined the mol­e­c­u­lar path­ways con­nect­ing the mind and body. Many sub­se­quent papers by other researchers have since val­i­dated his con­cepts and ideas.
 CSE&E read­ers are at the cut­ting edge of Con­scious­ness and health. This site is not about the cur­rent fad of today but the truth of t
ime tested real­i­ties that are ver­i­fied by sci­en­tific obser­va­tion out­side of the restric­tive main­stream sci­en­tific dogma of thought.  This site is about Human Longevity and today con­tin­ues to deliver con­crete infor­ma­tion that meets that Mission.
First comes Aware­ness, fol­lowed by Accep­tance. This process causes a Reboot of Con­scious­ness. Next comes "Con­scious Use" and Explo­ration of the Pri­mary Force. This is the four step process of under­stand­ing E=MC2 "Mat­ter is Energy".
You are always using the process of visu­al­iza­tion and man­i­fes­ta­tion of your cur­rent life.  It is only when you become aware that you acti­vate your next level of growth. Look back upon events in your life and do not only remem­ber the cir­cum­stance but the per­spec­tive you held at that time prior to and at the time of the cir­cum­stance — You Know, the thoughts only you know are being recy­cled in your mind with­out you even try­ing to con­trol them.  You will always find that your thoughts were in line with the phys­i­cal world around you.  When you accept that you are a healthy quan­tum being here to learn the path of Ascen­sion through the expres­sion of love and coop­er­a­tive har­mony, you become in tune with unimag­in­able energy.
Rebirth is the project name for this next set of 4 prin­ci­ples which in the spirit and mis­sion of this site of course will be pro­vided with­out charge. I am not a new age kind of guy, so I kept with the uni­ver­sal wis­dom of dual polar­ity and label them
Next Steps — The 4 Principles.
Aware­ness — You will be shown the Energy Frame­work of your body and its rela­tion­ship to the Energy Frame­work of  the Universe. 
Accep­tance — You will be pro­vided with tools using sacred fre­quen­cies that attune your first nine Energy Cen­ters to the fre­quency of Earth and the Uni­verse.  As your energy cen­ters come into align­ment, amaz­ing things start to hap­pen as your DNA is acti­vated and new under­stand­ings flood your being forc­ing accep­tance at the very core level of your oper­at­ing system.
Reboot — Your Accep­tance of this new Aware­ness will expand your Con­scious­ness to such a degree that depend­ing on the indi­vid­ual, your mind will have to re-catalog  pre­vi­ous beliefs and under­stand­ings to fit in your expan­sion of Aware­ness. Con­scious­ness is you as you are "Energy".  Aware­ness is the input of and response to  Sen­sory infor­ma­tion under­stood and is an ongo­ing process.
Con­scious Use -  As you start to re-categorize your pre­vi­ous under­stand­ings, you will exper­i­ment and begin  Explo­ration with your new Accepted Truths and Use your Under­stand­ing of the Pri­mary Force — Know­ing that all is the pri­mary force at dif­fer­ent lev­els of vibra­tion man­i­fest­ing in dual­ity of expres­sion. I.e. Male/Female , Yin/Yang,  North Mag­netic Pole (-)/South Mag­netic Pole (+), Hot/Cold, Light/Dark etc.    It is at this point that you grasp the impor­tance of "Choice"  and "Inten­tion". 
Inten­tion is always the vision and Choice is always the Action.
So what comes first the "Choice" or the "Intention"?
Based on your Con­scious Aware­ness, you "Choose" the thoughts upon which you will form an "Inten­tion".  You then make a series of "Choices" that deter­mine how that "Inten­tion" is "Man­i­fested".  Focused dwelling on an inten­tion is action.  The very act of you form­ing an "Inten­tion" ABOUT ANYTHING sets ener­gies in motion for that "Inten­tion" to manifest.
As Above, So Below, As Within, So With­out  
Be pre­pared to receive life chang­ing infor­ma­tion like not ever before expe­ri­enced.  Tune into learn­ing the truth about our bod­ies, his­tory, mag­net­ism and the abil­ity to chart your opti­mum life path. Once again the research has been done for you to have the guide­lines to under­stand such weighty top­ics such as  Con­scious­ness, mean­ing of life and what is really going on in the world around us with­out the mumbo jumbo and unver­i­fi­able romance of New Age men­tal dither­ing. We will focus on the hard­core ver­i­fi­able mod­els that pro­duce guar­an­teed results, just like we are taught to swim or ride a bike.  The Next Prin­ci­ples fol­low a path, I have in the end called "Understanding"
When com­pleted, you will understand;
"All is One" and the rad­i­cal impact of that under­stand­ing in prac­ti­cal terms. Every­thing you think, see, hear, smell, taste , and feel is you imme­di­ate envi­ron­ment.  If that envi­ron­ment is healthy, so are you.  Hap­pi­ness and dis­ease can­not coex­ist.  If you are ill, watch­ing vio­lent or dis­turb­ing movies should not be on your agenda.  The news should be watched only enough to keep you abreast of cur­rent events.  No more then absolutely nec­es­sary.  We live in a World where sick­ness is on the rise and peo­ple are patched together and told to keep going. For those who are enjoy­ing their new found health with the 4 Prin­ci­ples, you are launch­ing your­self into the stratos­phere with Next Steps — The 4 Prin­ci­ples. When you under­stand Epi­ge­net­ics and DNA methy­la­tion, Sci­ence and New Age have met and gone main­stream. Sacred Sci­ence is the new path of med­i­cine and much more.
It is receiv­ing good fund­ing from NIH and the rest is his­tory.  Just as I explained in "The 4 Prin­ci­ples", DNA med­i­cine is about to become com­mon­place.  Mankind is not fixed by their genetics.
Have you felt shaky, list­less, or ner­vous over the past 12 months?  For many , they will expe­ri­ence joint aches and headaches along with a whole host of symptoms.
Mankind is under­go­ing a basic fun­da­men­tal and mea­sur­able phys­i­cal shift in Aware­ness and Vibra­tion.  Are you aware of the change in Plan­e­tary Energy?  Can you feel it?  Don't let a doc­tor mis­di­ag­nose you with an ill­ness because your body is chang­ing to match the chang­ing fre­quency of the Earth.  Some doc­tors in the know have labeled it "DNA Activation."
The Body runs on Elec­tric­ity, the Spirit runs on Magnetism
Until we meet again, I bid you peace and most of all the key to all achieve­ment "HAPPINESS"